Dark Alpha's Demand
Reaper Series, #3
Blurb:


There is no escaping a Reaper. I am an elite assassin, part of a brotherhood that only answers to Death. And when Death says your time is up, I am coming for you…
My secret is an ancient one. I exist to exact vengeance on the Fae for their wrongs per Death's orders. When I'm sent to one of the most treacherous, deceitful places on any realm – the court of the Light Queen – as a spy, things awry. Neve captured my soul with just a look from her seductive gaze. She is who I want, who I crave…who I hunger for. But someone has set out to kill her – and expose me. I'll destroy any man – human or Fae – who brings harm to her, for she is the light my soul can't risk losing…



Excerpt


The Light Fae. As a race, they were supposed to be all about good and decency, but there wasn't a shred of either emotion within the walls of Usaeil's castle.
Neve observed Talin examining everything around him - from the castle, the Fae walking outside, the trees, and even the sky. His pale silver eyes missed nothing. She wondered what he saw, and how he catalogued things.
His long, black hair had the barest hint of a wave to it as it hung to the shoulders of his pale blue shirt. He shoved one side behind an ear and tilted his head as if listening.
She didn't think he realized she was still beside him, not that she minded. It gave her a chance to fill her gaze with his sharply chiseled features.
The hard planes of his jaw and chin were in direct contrast to his wide lips and thick eyelashes. It was difficult to look at Talin and notice anything but those beautiful eyes.
Except when she did look down, she saw a body that made her hands itch to touch him. His shirt barely contained wide shoulders that tapered to narrow hips where navy pants encased his legs. Every muscle was honed and defined.
As eye-catching as Talin's personal package was, it didn't hold a candle to what drew her interest – his bearing. The way he stood, walked, talked.
In a castle full of Light who believed themselves above others, the only one who had the attitude and demeanor to carry it off was Talin.


The Reapers Series

Reaper #1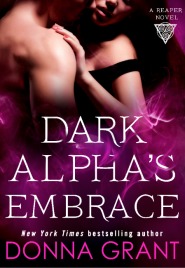 Reaper #2
About the Author
Donna Grant is the New York Timesand USA Today bestselling author of the sizzling Dark King series featuring dragons, immortal Highlanders, and the Fae.
She was born and raised in Texas but loves to travel. Her adventures have taken her throughout the United States as well as to Jamaica, Mexico, and Scotland. Growing up on the Texas/Louisiana border, Donna's Cajun side of the family taught her the "spicy" side of life while her Texas roots gave her two-steppin' and bareback riding.
Despite deadlines and voracious reading, Donna still manages to keep up with her two children, four cats, and one long haired Chihuahua.