Title:

The Sun Still Rises



Author:

Laura Bailo



Publisher:

NineStar Press



Release Date:

November 11, 2019



Heat Level:

3 - Some Sex



Pairing:

Male/Male



Length:

32000



Genre:

Contemporary, LGBT, Spain, bull running, writer, foreign traditions, anxiety attacks, grieving, long distance



Add to Goodreads





Synopsis


Whenever his father asked Erik to accompany him to Pamplona for the San Fermín festival, he said no. Now his father is gone, and in a spur of the moment decision, Erik finds himself in another country to run with the bulls in his memory. Erik hasn't booked a hotel, and he's completely unprepared for a city bustling with people. No accommodations to be had, he's resigned to sleeping in a park. Until help comes from an unlikely place.
David works in the tourism office, and Erik is surprised but grateful when he offers him his spare room, despite being a complete stranger. Faced with the choice of sleeping on the ground or the friendly offer of an extra bed, the decision is an easy one. The two of them get to know each other as David shows Erik what's to love about Pamplona. For the first time in a long while, Erik feels something for another person, but that doesn't change the fact that this is only temporary and he needs to go back home, does it?


Excerpt


The Sun Still Rises
Laura Bailo © 2019
All Rights Reserved

Prologue
"Are you sure you don't want to come?"
Erik had lost count of how many times his dad had asked. "Dad, I'm sure. You go and enjoy yourself."
"You could enjoy it, too, if you just forgot about everything else for a while."
He had always been worried about him. Erik was pretty sure his dad thought he didn't know how to have fun. Not having a lot of friends didn't mean he didn't get to enjoy himself. His idea of fun was simply different from his father's.
"Come on, Dad, you know I would only drag you down. I don't like crowded places, and you can't even walk in Pamplona during the festival."
"How could you know that?" His father sounded surprised Erik actually knew something about his destination.
"You've been going there every year for the last—what? Twenty years? And you think I've never watched the running of the bulls, trying to see you? I'm not that heartless, Dad."
"I didn't say you were. You've never seemed interested in any of it, so I didn't imagine you'd have done that. But I'm glad to know you love your old man enough to care and watch just in case he gets trampled by a bull."
That would have offended Erik had his dad not been smiling while he said it.
"Yes, yes, I do love you, which is why I want you to go alone and have fun without me tagging along. You deserve that." And he was serious, as this was the only time of year his dad let himself forget the problems that troubled him at work during the rest of it.
"Thank you, son. There's no convincing you, I guess. I'm going to go pack. Remember you promised to drive me to the airport."
Erik couldn't help but roll his eyes. "Yes, like I do every year. Don't worry; I'll be ready. You know I will."
"I know, I know." And with two pats to Erik's shoulder, his dad left to pack his white and red clothes.
Erik decided he should head to bed. The flight left at a ridiculously early hour, which meant he should go to sleep early if he wanted to be awake enough to drive. After his dad left, he'd have a week all to himself, and he was planning on taking advantage of it, writing nonstop. Not what his dad would consider fun, but putting words on paper was what made Erik happy, and he had a deadline coming up for his next book.
Purchase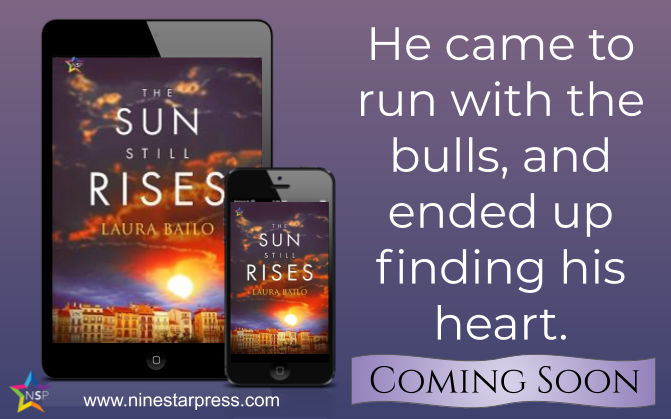 Meet the Author


Laura Bailo is an asexual Spanish author of queer romance. She's an anxiety-ridden writer who, when not writing or reading, loves exploring the narrow streets of Pamplona and thinking about all the stories she wants to write in the future. She has a penchant for writing sweet stories with a Spanish flavor, be it fantasy or contemporary, and she's still dreaming about writing her first historical.


Website

|

Facebook

|

Twitter