Title:

Chaser


Series:

Chaser, Book One


Author:

Rick R. Reed


Publisher:

NineStar Press


Release Date:

February 24, 2020


Heat Level:

3 - Some Sex


Pairing:

Male/Male


Length:

67500


Genre:

Contemporary, LGBTQIA+, Insta-love, family illness, separation, perceived cheating, physical fitness, narcissistic character, betrayal



Add to Goodreads





Synopsis


Caden DeSarro is what they call a chubby chaser. He likes his guys with a few extra pounds on them. So when he meets Kevin Dodge in a bar bathroom, he can't help but stare. As far as Caden is concerned, Kevin is physically perfect: a stocky bearded blond. But Caden gets tongue-tied and misses his chance.
When Caden runs into Kevin one night on the el train, he figures it's fate offering him a second shot. Caden manages to get invited back to Kevin's place for a one-night stand that turns into the kind of relationship he's dreamed about.
But the course of true love never runs smoothly—Kevin and Caden's romance is no exception. When Caden returns from a few weeks away on business, Kevin surprises him with a new and "improved" body—one that fits Caden's shallow friend Bobby's ideal, but not Caden's. Caden doesn't know what to do, and his hesitation is just the opportunity Bobby was looking for.



Excerpt


Chaser
Rick R. Reed © 2020
All Rights Reserved
Chapter One
"I like fat men."
"You like big butts?"
"I cannot lie."
Caden and his therapist laughed together over the song reference, both old enough to remember Sir Mix-A-Lot's 1992 rap hit "Baby Got Back." Camille D'Amico reined in her laughter abruptly, pushing her tortoiseshell glasses back up on her nose and fussing with her frizzy halo of brown hair. She adopted a serious expression. "So you're attracted to heavier men. Is that a problem?"
"Not really a problem, I guess. It's just that I wonder why. I mean, look at me."
Caden stood up, turned around slowly, and sat back down in the comfortable overstuffed chair facing Camille. He knew what he was displaying—a very trim, tight five-foot-eleven frame upon which not even an ounce of fat rested. In the dictionary, if one looked up the word "lean," there was Caden's picture, the perfect illustration. He rubbed his hands over his black buzz cut and then brought one hand down to the stubble of his just-coming-in beard. Not only was he very fit, he was a very handsome thirty-year-old man.
"What?" Camille asked. "You think you're too good for a guy with a few extra pounds on his frame? Think you're slumming if you take a walk on the fat side?"
Caden shook his head and put up his palms in self-defense. "No, no, that's not it at all. I don't think I'm better, not by any stretch. I'm just wondering why, lately especially, I've been drawn to heavier men."
"Is this something new for you?"
"Not really, but it's only something I've been acting on in the past few months. I have this friend, Bobby, who I usually go out with and he's, well, he can be kind of superficial…" Caden's voice trailed off as he thought of his gorgeous friend, who looked a lot like the porn star, Dawson, with a trim build, cut abs, closely shorn auburn hair, and luminous gray eyes. The difference between Bobby and Dawson was that Bobby was much choosier than Dawson, although perhaps no less promiscuous—no mean feat when one considered one of Dawson's films was entitled Dawson's 50-Load Weekend. Anyway, this session was supposed to be about Caden, not Bobby. "And he always gives me a hard time about wanting to meet, as I said, heavier men."
"And this Bobby's opinion is important to you?"
"He's my best friend."
"Important enough that you would alter going after what you really want for him?"
Camille's question stopped him short. He'd never really thought of it that way. Why did it matter what Bobby thought? So what if he didn't approve of the bearded redhead he met online and invited over last week? And what business was it of Bobby's if he liked to peruse the profiles at footballplayerbuild.com?
Obviously, it bothered him enough to bring it up here today with Camille, whom he had been seeing for the past three weeks. His visits to her were his thirtieth birthday present to himself. He hoped to figure out why, at age thirty, he had yet to find a relationship that lasted more than three dates.
He had begun wondering if there was something intrinsically wrong with him. He was a good catch—at least that's what his mother told him—but on paper, he did look good. No one could argue with that. He was handsome, having inherited his mother's Sicilian olive complexion, black hair, and eyes that ranged from amber to green. His nose was strong, patrician, some might say (his mom again, anyway). He wasn't a bodybuilder, but years of running four to six miles four to six days a week, along with summertime lakefront bike rides, had given him a good, solid build.
And it wasn't just in the looks department where he thought he had a lot to offer. He had a good head on his shoulders. That he got from his late father, who had been a fully tenured professor of English literature at Northwestern University in Evanston before passing away unexpectedly one morning in the bathroom of a heart attack. That same head on his shoulders had given him, if not a stellar job, a solidly respectable and reliable one as a copywriter at a medical association in downtown Chicago. He had been there since graduating from Northwestern nine years ago, starting out as an editorial assistant on one of their trade journals.
So why did he feel the need to try to apply the same standards Bobby applied to his own dates, standards that could be summed up by Bobby with the initials FG, which stood for "fucking gorgeous"? If a man was not FG, so Bobby's rationale went, he was not worth fucking.
Sometimes Caden wondered why he had Bobby as a best friend. But he could be hilarious at times, and he could be a lot of fun. Caden on his own in a bar was a wallflower, but with Bobby, some of his charm and charisma, the devil-may-care attitude, rubbed off on Caden.
Plus, going out with Bobby usually meant he would hook up with one of Bobby's FG prospects' fucking gorgeous friends. Because, as Bobby always said, "The hot ones travel in packs."
Caden shook his head and looked at the therapist, who was sitting patiently, waiting. "What did you ask me again?"
"I asked you if Bobby's opinion was more important to you than getting what you want." Camille cocked her head.
"No, no, of course not." He answered too quickly.
"You know," Camille said, "I'm like what's in your own head. There's no need in here to try and come up with what you think is the right answer. No need to censor yourself. Do I need to remind you there's no judgment here?"
"No."
"So, I won't ask you about Bobby's opinion again, but I do want you to think about your answer."
"Why?"
"Because you brought up your attraction to heavy men for a reason." Camille shrugged. "It doesn't matter so much what the reason is, so much as it matters what you think about it. Look, people are attracted to other people for all sorts of reasons, and there's no right or wrong way to be attracted. Take my mother—please!" Camille laughed. "Ever since my father passed away a few years ago, she's been all about younger men. And I am not talking forties and fifties here. I'm talking about much younger, your age, Caden, and even in their twenties. Mom's sixty, but she's a knockout."
"Cougar?" Caden asked.
"Use that word around her and you might get your eyes scratched out. Anyway, my point is that it's what she likes, and even though I did question it at first, especially when she was having me meet guys who were younger than I was, it wasn't my call to make. Attraction is subjective—totally."
"You're right."
Camille laughed. "I'm not looking for affirmation. I just want to understand why you chose to bring up this particular attraction with your therapist."
And Caden realized he'd like to know the reason himself. If he could only get a handle on it, a love handle, if you will. He shook his head, censoring his inner Kathy Griffin.
The therapy session failed to illuminate the rationale for Caden's attraction, and he left Camille's office with homework not on why he was attracted to heavy guys, but why he felt that mattered.
It didn't matter, did it?


Purchase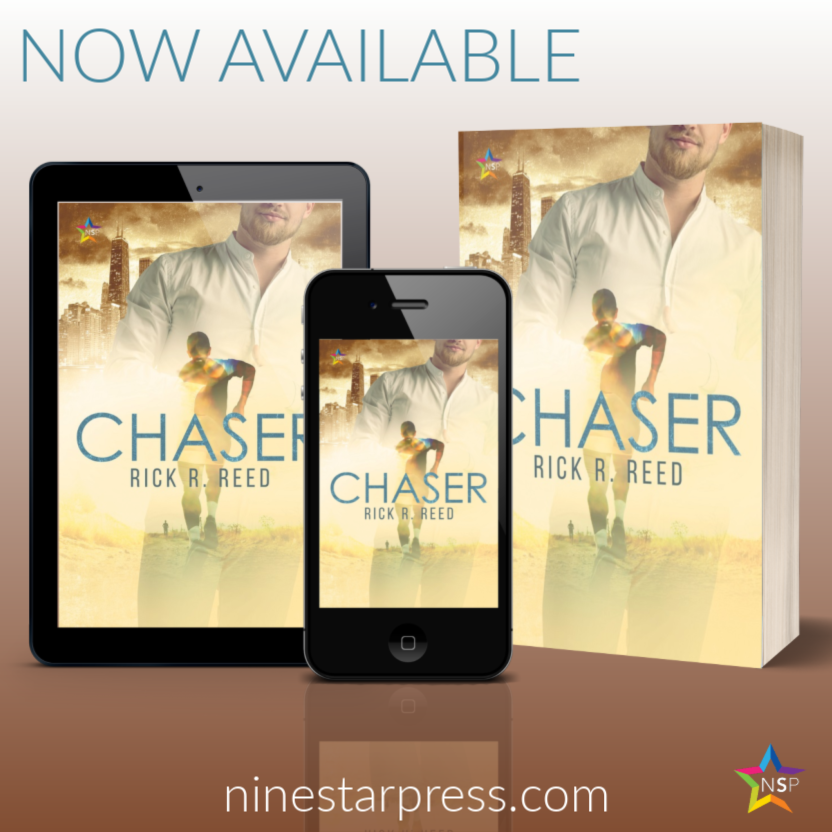 Meet the Author


Real Men. True Love. Rick R.
Reed draws inspiration from the lives of gay men to craft stories that quicken the heartbeat, engage emotions, and keep the pages turning. Although he dabbles in horror, dark suspense, and comedy, his attention always returns to the power of love. He's the award-winning and bestselling author of more than fifty works of published fiction and is forever at work on yet another book. Lambda Literary has called him: "A writer that doesn't disappoint…" You can find him at www.rickrreedreality.blogspot.com. Rick lives in Palm Springs, CA, with his beloved husband, Bruce, and their fierce Chihuahua/Shiba Inu mix, Kodi.


Facebook

|

Twitter

|

Instagram
Giveaway
a Rafflecopter giveaway