Title: Drifter
Author: Eden Winters
Publisher: Rocky Ridge Books
Release Date: 7/7/20
Heat Level: 3 - Some Sex
Pairing: Male/Male
Length: 238
Genre: Romance, Contemporary, Rocker

Synopsis
Some legends never die. Killian Desmond met his end in the fiery crash that killed his band, or so the newspapers say. Now a nameless drifter, he plays one pick-up gig after another in a haze of pain and regret, moving on the minute someone says, "You sound like that guy from Trickster." Getting outed cost Mike Rose his musical family. A bassist without a band, he'll play any kind of music to earn a paycheck, but Trickster's music provides light during the darkest moments of his life. A chance meeting brings together two lost souls who spark enough heat to set their guitars on fire. Their chemistry, both onstage and off, feels like something written in the words of a song and gives them courage to face life again. But to seize their future, they have to confront their past.

Excerpt
The throbbing beat blended with screams from the crowd; a crowd hidden by bright lights. Sweat and cologne and beer filled Killian Desmond's nose. Familiar sounds. Familiar scents. Home. Did he love this life or hate it? Who cared, he'd never known another. Back to back with his brother Elliot, he shredded his electric acoustic guitar, improvising for the fans. The strings bent to his callused fingertips, note after note falling from his guitar. Elliot kept up. Elliot always kept up. Others might get lost in Killy's musical fantasies, but El gauged Killy's intentions by the way he moved, held his shoulders, or gestures, like pausing to flip his sweat-dampened hair out of his eyes. The drummer and keyboardist faded away, letting El set the tone with a deep bass beat. Killy strutted to the front of the stage. Hot lights illuminated him from behind, shining on sweat-soaked skin. "What you wanna hear?" He didn't need the words to know they'd be sticking to their prearranged lineup. At their manager's urging, he'd saved the best for last. Highway!" roared through the arena. He grinned and cupped a hand to one ear. "What's that? I can't hear you." Highway!" roughly six thousand voices cried out in unison, louder this time. "Aw, c'mon, now," Killy teased. "We'll play whatever you want, but you gotta tell us." The thunderous chant of "Highway! Highway! Highway!" threatened to blow the roof off the building. Strolling over a few paces and throwing an arm around his brother, Killy said, "Well, I reckon we better do as they say." "Since when have you ever taken orders?" Elliot shot back. Faster than most could follow, Killy slung his guitar back into place and launched into their best-known riff. The screaming nearly deafened him. He tried again. On his sixth attempt the crowd settled enough to begin. He grinned. Adoration and energy flowed from the crowd, straight into his veins, to gather strength and escape through his fingers and his voice. His deep growl purred through the arena, pouring out the melody he'd written in a single night in a hotel room God knew where. High on life, cheap vodka, and the rush of their first big show, he'd settled onto the bed in the dark, except for the flickering image of a black and white movie on the TV, sound turned down, and began strumming. The words flowed out of him unbidden, leaving him raw, shaken, and in possession of a number one hit. He didn't sing or play Highway—the melody made him its bitch, possessing him, demanding release into the world. Who was he to refuse? "Some were born to sand and wind, on the sea they make their home Some may live a hermit's life, on a mountain all alone Or in a glass and metal cage, high up in the sky Packed in tight with a thousand souls, all trying to get by Nine to five may work for some, but that don't work for me Saddled to day in day out, no, I need to be free Living a life all on my own, free of family, lover or friend On the highway I was born, it's there I'll meet my end." Alone, just him and the highway, until the chorus. "On the highway I was born, it's there I'll meet my end." Elliot's sweet tenor wrapped around Killy's pack-a-day growl, blending together seamlessly. The audience joined in, chanting, "Highway! Highway! Live and die on the highway!" Rob kept pace on the drums, a musician not really worthy of the band they'd become, and Ace, a friend and one hell of a musician, wound his way through the twists and turns on his keyboards. "The only home I'll ever know stretches from sea to sea No start, no end, no in between, just miles of road and me Living a life all on my own free of family, lover or friend On the highway I was born, it's there I'll meet my end Highway! Highway! Live and die on the highway! Highway! Highway! Live and die on the highway! Highway! Highway! Live and die on the highway!" The mass of humanity might have started chanting again for all Killy knew. His world boiled down to this moment, the music, his brother, his friend, and the life laid out for him long ago, the first time his mother brought him and Elliot onstage. They'd stayed. She'd gone. Here they still stood, though she didn't. Never would again. Nope, no bad thoughts. Just the music. Note after note poured from him like rain, blocking thought and feeling. He crashed to his knees, striking a chord and letting his guitar speak for him. Caught in the spotlight, he leaned back in a signature move his manager made him practice, making his shirt ride up to show some skin, while his hair fell back, glittering like gold in a strategically placed spotlight. The blue streak, his own addition, voiced his defiance at being a commodity. He should've been exhausted after the show they'd put on, but in that moment, he swore he could go all night. He jumped to his feet, racing across the stage and running through part of the guitar solo for those seated to the left of the stage, then reversed course to the right, repeating the solo. Arms reached for him, a thousand voices calling his name. Rejoining Elliot centerstage, he launched into the chorus and let the others join him. After extending the song by two more choruses, he finally wound down. An announcer stepped up on stage, to catcalls, whistles and ear-splitting shouts. "Let's hear it for Trickster!"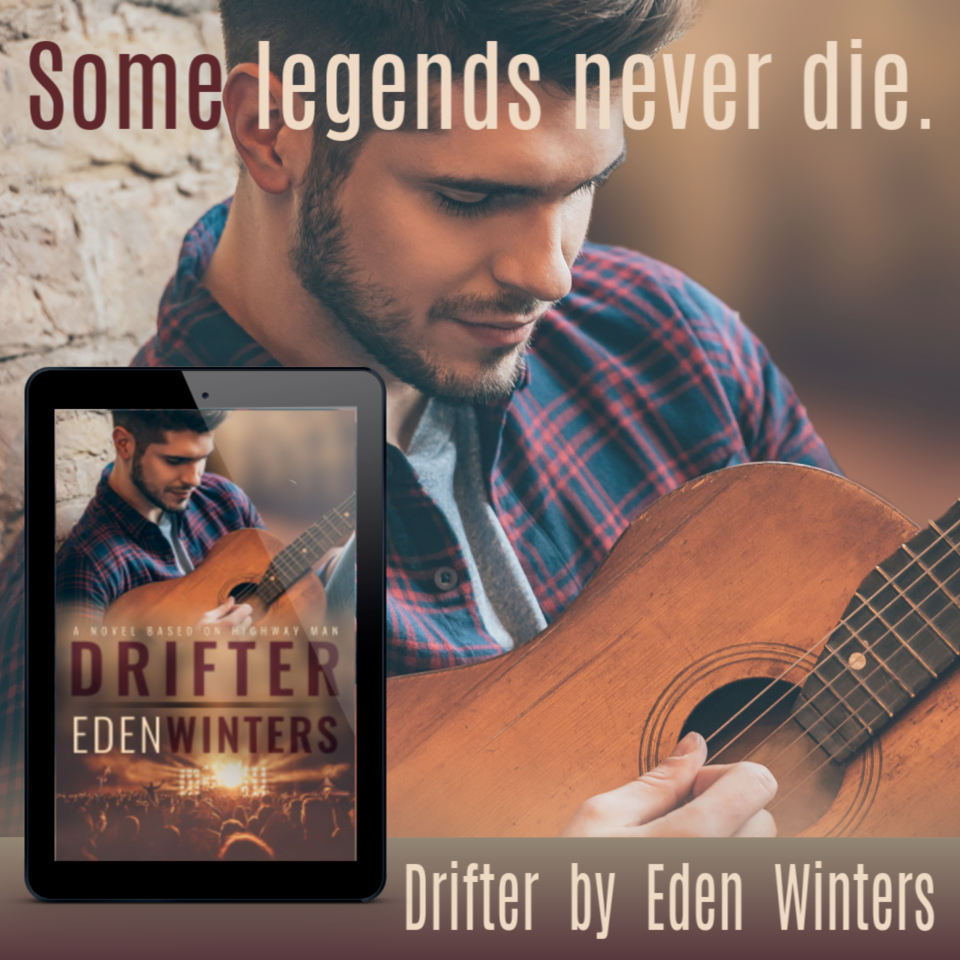 Review: Wow, this book jumps right into the "I hate this character so much" category for me, LOL. I've never wanted a character to die so much before, but this abusive POS really had it coming.
Killian's story is heartbreaking when he thinks of the death of his brother but the book is not all sad. It's a sweet, fast-paced love story between Killian and Mike.
While there is some angst throughout the book and I loved how it ended.
You will know Eden Winters by her distinctive white plumage and exuberant cry of "Hey, y'all!" in a Southern US drawl so thick it renders even the simplest of words unrecognizable. Watch out, she hugs! Driven by insatiable curiosity, she possibly holds the world's record for curriculum changes to the point that she's never quite earned a degree but is a force to be reckoned with at Trivial Pursuit. She's trudged down hallways with police detectives, learned to disarm knife-wielding bad guys, and witnessed the correct way to blow doors off buildings. Her e-mail contains various snippets of forensic wisdom, such as "What would a dead body left in a Mexican drug tunnel look like after six months?" In the process of her adventures she has written twenty gay romance novels, has won Rainbow Awards, was a Lambda Awards Finalist, and lives in terror of authorities showing up at her door to question her Internet searches. When not putting characters in dangerous situations she's a mild-mannered business executive, mother, grandmother, vegetarian, and PFLAG activist. Her natural habitats are airports, coffee shops, and on the backs of motorcycles.