🌟 ℍ𝕆𝕋 ℕ𝔼𝕎 ℝ𝔼𝕃𝔼𝔸𝕊𝔼 & 𝔾𝕀𝕍𝔼𝔸𝕎𝔸𝕐 🌟
𝙒𝙝𝙚𝙣 𝙩𝙝𝙚 𝙎𝙩𝙖𝙧𝙨 𝙁𝙖𝙡𝙡, 𝙖𝙣 𝙖𝙣𝙜𝙨𝙩𝙮, 𝙚𝙢𝙤𝙩𝙞𝙤𝙣𝙖𝙡, 𝙝𝙚𝙖𝙧𝙩 𝙬𝙧𝙚𝙣𝙘𝙝𝙞𝙣𝙜 𝙧𝙤𝙢𝙖𝙣𝙩𝙞𝙘 𝙨𝙩𝙖𝙣𝙙𝙖𝙡𝙤𝙣𝙚 𝙗𝙮 𝙀𝙢𝙚𝙧𝙮 𝙍𝙤𝙨𝙚 𝙞𝙨 𝙇𝙄𝙑𝙀!
#𝙊𝙣𝙚-𝙘𝙡𝙞𝙘𝙠 𝙩𝙤𝙙𝙖𝙮!
BOOK BLURB
Growing up, Jude McCallister was the bane of my existence. My best friend. Fiercest ally. The most annoying boy in the world. At eighteen, the boy I loved to hate became the man I couldn't live without. We were young. Madly in love. Invincible. Strong enough to weather any storm. Cocky enough to believe that no amount of time or distance could destroy us. When Jude finally returned home from overseas, it should have been cause for celebration. But the man I'd fallen in love with was gone, and in his place was someone I no longer recognized. 𝐼 𝑐𝑎𝑛'𝑡 𝑑𝑜 𝑡ℎ𝑖𝑠, 𝑡ℎ𝑒 𝑛𝑜𝑡𝑒 𝑠𝑎𝑖𝑑. 𝐼'𝑚 𝑠𝑜𝑟𝑟𝑦. Now, after six long years he's back. Only my heart ... it doesn't beat just for him anymore.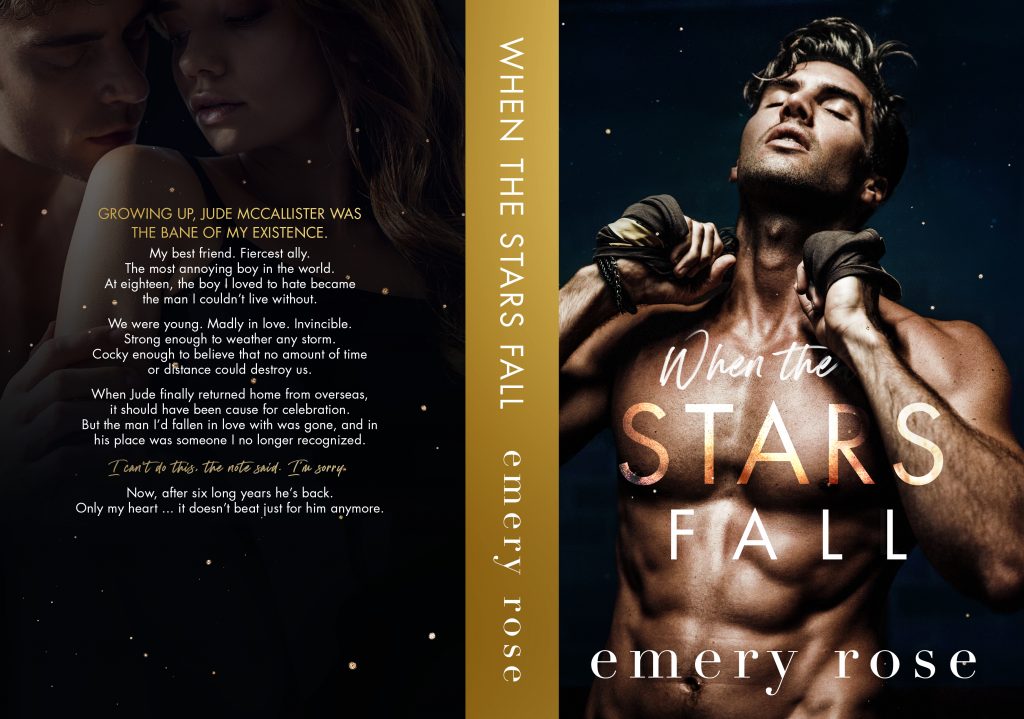 To celebrate the cover reveal of When the Stars Fall, Emery Rose is giving away a $25 Amazon gift card! Head to her Facebook page to enter
TEASERS
Emery Rose has been known to indulge in good red wine, strong coffee, and a healthy dose of sarcasm. When she's not working on her latest project, you can find her binge-watching Netflix, trotting the globe in search of sunshine, or immersed in a good book. A former New Yorker, she currently resides in London with her two beautiful daughters and one grumpy but lovable Border Terrier.